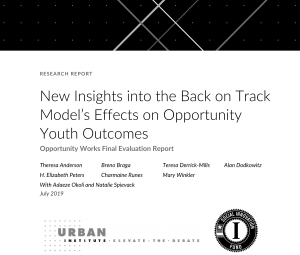 For the Hartford OYC, the Collective Impact approach has been an important lever for engendering a shared sense of purpose across numerous local community-based organizations."
Opportunity Works was a three-year effort led by Jobs for the Future to help opportunity youth—young people ages 16 to 24 who are not in school or meaningfully employed—access postsecondary and career pathways. Based on the Back on Track framework, seven cities across the country undertook collective impact approaches with diverse partners to provide supportive, enhanced preparation and postsecondary/career bridging for eligible young people, with a particular focus on young men of color.
Opportunity Works Final Evaluation Report
Opportunity Works Hartford offers evidence-based career pathway programming in health care and manufacturing in partnership with community-based organizations and community colleges to Opportunity Youth ages 18 to 24. This effort has a strong focus on young men of color and will serve 180 by 2018. These youth will earn industry-recognized credentials, complete internships, and secure jobs that lead to sustaining wages.
Opportunity Works Hartford is an initiative of Hartford Opportunity Youth Collaborative, managed by Capital Workforce Partners, and supported by Annie E. Casey Foundation, Aspen Forum for Community Solutions, Hartford Foundation for Public Giving, NBCUniversal Foundation, and Social Innovation Fund (as a subgrantee of Jobs for the Future). Program delivery is led by Blue Hills Civic Association and Our Piece of the Pie in partnership with Asnuntuck, Capital, and Manchester Community Colleges.