The Aspen Forum for Community Solutions held its second annual Fall Convening for the Opportunity Youth Incentive Fund gathering grantees, strategic partners, funders and guests to share emerging lessons and strategies in reconnecting opportunity youth to education and employment through collective impact. Speakers included Melody Barnes, chair of the Aspen Forum for Community Solutions and former director of the White House Domestic Policy Council, Jim Shelton, deputy secretary at the US Department of Education, and Hartford's Alex Johnson, chief operating officer and executive vice president of Capital Workforce Partners.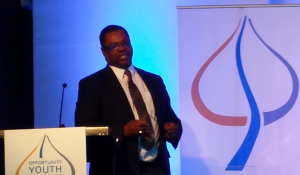 Addressing an audience of 250 civic leaders, Mr. Johnson noted, "It's not traditional job development. It's looking at how we engage employers in the long term to support the development of our youth using career pathway models." He continued the discussion during a panel exploring opportunities and best practices.
Also, on the panel, Kim Oliver, the director of Hartford's collaborative who has extensive experience in engaging businesses to strengthen outcomes, shared, "Businesses are looking for qualified, skilled workers. Deliver that and you've made partner that will be there for you and your youth in the long-term."
Learn more about the Aspen Institute Convening here and see the story here.
Learn more about how we engage employers here.