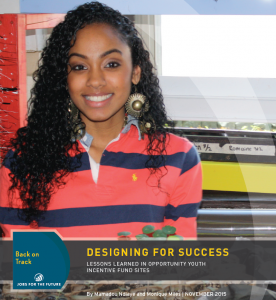 For the Hartford OYC, the Collective Impact approach has been an important lever for engendering a shared sense of purpose across numerous local community-based organizations."
Jobs for the Future (JFF) works with communities like Hartford to design and drive the adoption of education and career pathways leading from college readiness to career advancement for youth and adults. In this report, JFF shares a brief history of the OYIF, highlights key strategies used in OYIF communities to design and implement pathways for youth, and shares critically important early lessons in pathway design.
In "Designing for Success", the authors note Aspen's Opportunity Youth Incentive Fund (OYIF) has focused on reconnecting Opportunity Youth through community-based collaborations that effectively remove barriers, connect the many systems that touch their lives, and build and deeper education and employment pathways. In 2013, Aspen awarded Hartford Opportunity Youth Collaborative an OYIF grant and a subsequent implementation grant in 2014. Following in 2015, Hartford received a Social Innovation Fund award as a subgrantee of JFF and began Opportunity Works Hartford, local programming part of a national Opportunity Works initiative to build evidence to further promote effective pathways.
Opportunity Works Hartford offers evidence-based career pathway programming in health care and manufacturing in partnership with community-based organizations and community colleges to Opportunity Youth ages 18 to 24. This effort has a strong focus on young men of color and will serve 180 by 2018. These youth will earn industry-recognized credentials, complete internships, and secure jobs that lead to sustaining wages.
Opportunity Works Hartford is an initiative of Hartford Opportunity Youth Collaborative, managed by Capital Workforce Partners, and supported by Annie E. Casey Foundation, Aspen Forum for Community Solutions, Hartford Foundation for Public Giving, NBCUniversal Foundation, and Social Innovation Fund (as a subgrantee of Jobs for the Future). Program delivery is led by Blue Hills Civic Association and Our Piece of the Pie in partnership with Asnuntuck, Capital, and Manchester Community Colleges.